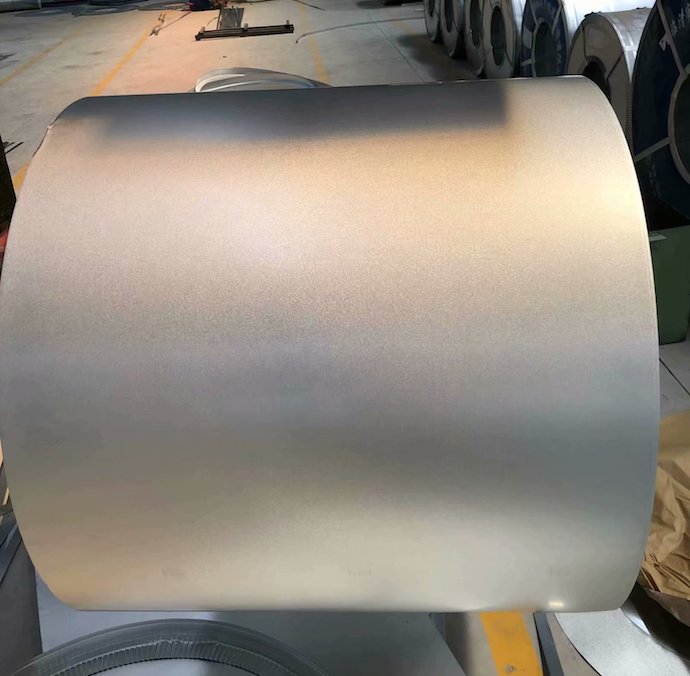 The galvalume & aluzinc steel sheet in coil uses the cold-rolled steel sheet as a substrate and solidified by 55% aluminum, 43.4% zinc and 1.6% silicon at 600 °C. It combines the physical protection and high durability of aluminum and the electrochemical protection of zinc. It is also called aluzinc steel coil.
Advantage:
Strong corrosion resistance, 3 times that of galvanized steel sheet.
The density of 55% aluminum is smaller than the density of zinc. When the weight is the same and the thickness of the plating layer is the same, the area of the galvalume steel sheet is 3% or larger than that of the galvanized steel sheet.
Galvalume Steel Sheet in Coil
| | |
| --- | --- |
| Product name | Galvalume Steel Sheet in Coil |
| Material | CGCC, DX51D,Q195,Q235 |
| Grade | SGCC,DX51D+Z |
| Alu-Zinc Coating | 20-120g/m2 |
| Thickness | 0.13-0.8 mm |
| Width | 600-1250 mm |
| Coil ID | 508/610mm |
| Coil weight | 3-8tons |
| Surface Structure | Mini Spangle |
| Surface Treatment | Anti-Finger printing ,Chromated, oiled/ non-oiled |
| Package | standard export package (Detailed picture is as follows) |
| Hardness | soft (normal), hard, full hard(G300-G550) |
| HS code | 721049 |
| Country of origin | China |
| Business type | Supplier and manufacturer |
| Brand name | GRSSTEEL |
Galvalume Steel Coil&Sheet Production Line
The manufacturing of Galvalume steel sheet in coil with good weather resistance, primarily used in construction.
Galvalume Steel Coil Coating Layer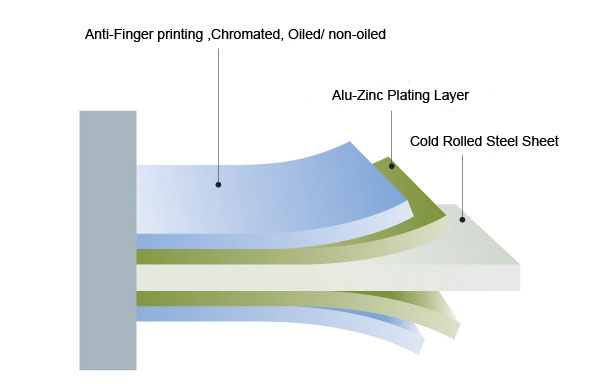 Anti-Finger printing ,Chromated, Oiled/ non-oiled
Alu-Zinc Plating Layer
Cold Rolled Steel Sheet
What is galvalume steel
Galvalume® is a registered trade mark of BIEC International Inc., one of BIEC's global patents. Currently 31 steel plants from 22 countries have obtained their production technique and certification from BIEC International company.
The surface of galvalume steel sheet features a unique star-shape, smooth and plain, with silver color as primary colour. Its special plating structure could be well corrosive -proof.
Its lifespan normally could reach 25 years. It is as well in heat-resistant as used in 315℃ high temperature; The plating and paint film with good adhesion would be excellent in processability including punching press, shearing, and welding, etc., and also it performs well in electro-conductivity.
Features
People use it as material for heat-insulation for its thermal reflectivity as high as twice the galvanized steel sheet.
The aluzinc steel sheet could bear above 300℃ high temperature with its good performance in heat-resistance, quite similar to the aluminized steel sheet's performance in oxidation-resistance under high temperature. It is often used for chimney pipe, oven, illominator, and fluorescent lamp cover.
Corrosive-resistance performance:
The essential of galvalume steel coil's corrosive-resistance lies at aluminium's protective property. Once the zinc come under abrasion, the aluminium would form a layer of densified oxidized aluminium, preventing the interior from further corrosion.
The density of 55%AL-Zn is smaller than Zn, therefore, with the same weight and thickness of coating, the galvalume steel sheet is 3% larger in area than that of galvanized steel sheet.
There is perfect adhesiveness between galvalume sheet and paint, saving the process of pre-treatment and weathering for painting work.
The coating material on the galvalume steel sheet is outstanding in its adhesiveness, which could be directly tarring on the advertising board and commonly used board with no pre-treatment such as weathering process.
The galvalume steel sheet's surface is luxury in silver colored appearance.
Galvalume steel sheet and galvanized steel sheet are similar in performance of processability and painting.
The difference between galvanized and galvalume:
The primary difference lies at its coating layer. For the galvanized sheet, a layer of zinc material is averagely distributed on the surface of galvanized sheet, playing as a positive sheet protective to the base metal, in another word, zinc works as substitute for corrosive-proof protecting the base metal until it is torn off.
While the galvalume sheet's surface is a coating layer consisting of 55% aluminium, 43.5% zinc and other few elements, which appears a honeycomb structure under microscopic observation. Aluminium honeycomb wraps the zinc.Under such circustances, even though the coating of galvalume also plays its protective role as positive sheet, however, such protection decrease sharply due to declining content of zinc and no easily electrolysis when zinc wrapped by aluminium.
Therefore, once the galvalume sheet is cut open, the verge of cut would be generally losing its protector and quickly go rusting. So we should cut as less as possible, once cutting happen, use anti-rusting paint or zinc-rich paint for protecting the verge, extending its lifespan.
Quality Control
Galvalume steel coil test:
Strictly follow coating thickness measurement, hardness testing (pencil hardness, scratch hardness), flexibility testing (impact, the shaft bends, T bend, cup drawing, stretch), adhesion test (scratch test), degree of curing test (glass transition test, solvent resistance test, the dry heat test), other performance testing (Pressure spot test, baking test, stain resistance test, chemical resistance test, the abrasion test, Drop test, the coefficient of friction test);
Packing Detail
Packaging Details:
Each bare coil to be securely tied with two bands through the eye of coil (or not) and one circumferential.
the contact points of these bands on the coil edge to be protect with edge protectors.
Coil then to be properly wrapped with water proof /resistant paper, it then to be properly and completely metal wrapped.
Wooden and iron pallet can be used or as your requirements.
And each packed coil to be properly wrapped with band, three-six such band through the eye of coil at about equal distance.